Being an expat is all about meeting all kinds of people. We meet them, we get to know them, we enjoy that very moment together and eventually we create a bond and become real friends. Friends are family in a life where most of our families aren't with us on a daily basis.
At the same time, it is also part of our expat life to wave people goodbye. We say farewell to people we spend wonderful times with. People who we shared precious experiences with. People we loved. And still do.
My daughter is not even 2.5 years old and she has already had to say goodbye to two real toddler friends. One of them was a little different than the other, because that one friend she purely picked herself. She wanted to be with that little girl. It was her choice from the deepest of her heart. She met her, they clicked and their friendship was born.
Their friendship was inspiring. Their eyes would shine as soon as they saw each other. They cared for each other beautifully. They loved each other with their little hearts.
I had a smile on my face when they both, half naked crashed into the pool to ride their bobby cars. I couldn't stop watching, when they would spend hours in the shower always keeping the door closed so that they could be alone.
Oh did I truly enjoy every episode of their friendship.
Until that moment, when my daughter's friend's family had to return to their home country. When I knew, we will have to deal with a loss in our life. Again.
A loss can be anything from losing a person because of death or moving towns up to losing things or habits such as misplacing the wedding ring or the unavailability of morning coffee runs.
Any of these moments in life surface feelings of loss within us. Those feelings can be tremendous and strong or mild and gentle. They can be feelings of rejecting the truth, being angry about the new reality or simply being sad, because we are missing someone we don't want to miss.
In my case, I have experienced some, if not all, of those loss related feelings mentioned above. What I have not experienced yet is a feeling created from my daughter's losses in her life. Feelings inside of me that she won't be able to see her amazing little toddler friend anymore. I struggle to accept the fact that my daughter's life took I turn I didn't wish it to take. My eyes fill with tears, when I remember their laughter and giggles. It makes my heart jump, when I recall the times they hugged and cared for each other.
And all of this left me clueless. Insecure. Afraid. And full of doubts. My feelings were very strong and overwhelming. They occupied many hours of my day. Whatever I tried, those feelings wouldn't ease.
Until, on day 2, I realised that I was stuck and I didn't know what to do with my stuck feelings. And I began to worry that I won't be able to hold my daughter's feelings in this situation until I managed to get clarity on my own and become unstuck.
So, I went and asked for a coaching session. Being a coach myself, I have multiple coaching friends and I asked my Life Coach friend Ysaline for help.
Coaching is an incredible, amazing, profound and lasting experience which helps us to increase our wellbeing, feel more happy and complete, develop new behaviours, create new habits and change our point of view.
I wasn't sure what I wanted to do with this coaching session. Finding a way to release the feelings didn't feel right. Continuing with those feelings took so much energy I was not willing to spare either.
So, Ysaline allowed me to download. She asked me about my feelings, my worries, my doubts, my uncertainty. She allowed me to hold on to all my fears and at the same time image what my life would be like without them. She helped me to root everything down to where I was able to make a choice. I became clear that the anchor for this overwhelming sadness was based on one belief: I am not good enough to be liked by others, so that they want to be my friend.
I was holding on to my daughter's friend through my strong sad feelings, because I felt guilty to remove a precious friend from her otherwise. I want my daughter to have special friends and to experience the joy of friendship. I was worried my daughter would become a toddler with no friends if I accepted that her friend is not part of our daily life anymore. That she will become the only toddler with no friends.
Why was I worried about that? Because I don't have the trust in myself that I am truly good enough to be liked and loved by others so that they really want to be friends with me. I projected this belief to my daughter's life.
I realised I wanted my daughter to feel good enough and to experience the joy of friendships as positive imprints for her developing brain. I definitely did not want to pass on my own worrying belief.
I made the choice to pause my sad feelings for a bit and expose her to other toddlers. I took her outside and she straight away connected with other toddlers. Wow. I was feeling wonderful.
Her experience gave her confidence and imprinted the feeling of being good enough. At the same time I felt secured and it eased my tears. I developed gratitude for each and every moment that my daughter and her stunning little toddler friend had shared. I am now able to hold these memories with joy and fulfilment to help keeping their friendship alive throughout the long distance.
The coaching session brought clarify and created a win-win for both my daughter and me.
I did feel something I have never felt before. And I am happy I did. It was a wonderful experience.
---
This article was published in Bambi Magazine, July 2020: https://www.bambiweb.org/lifestyle/feelings-of-loss-as-an-expat-mom/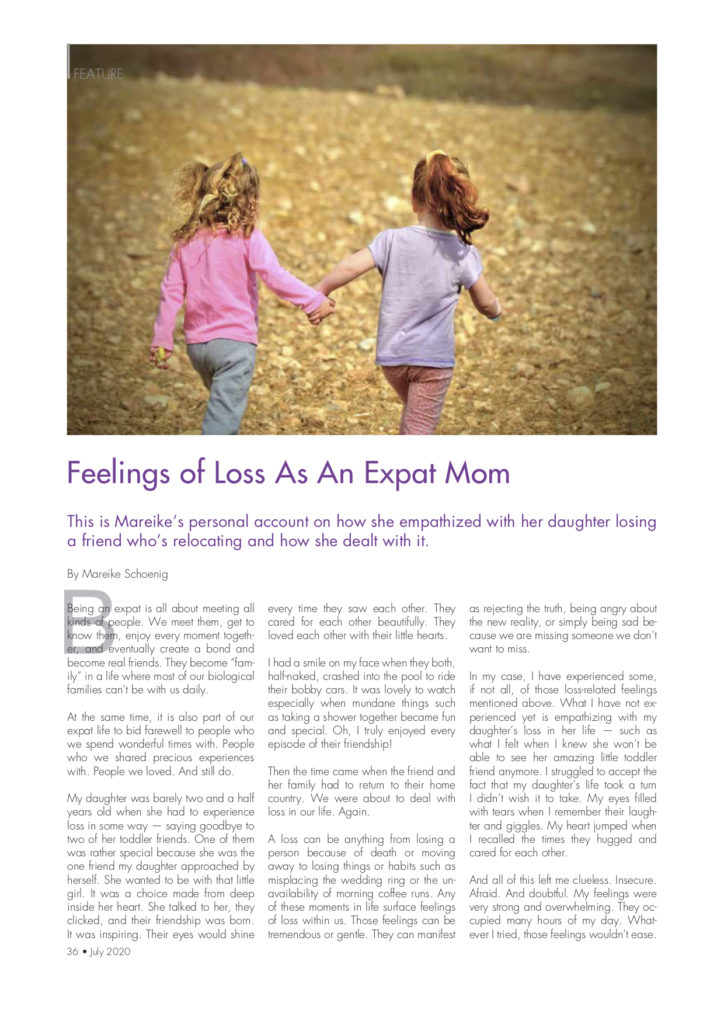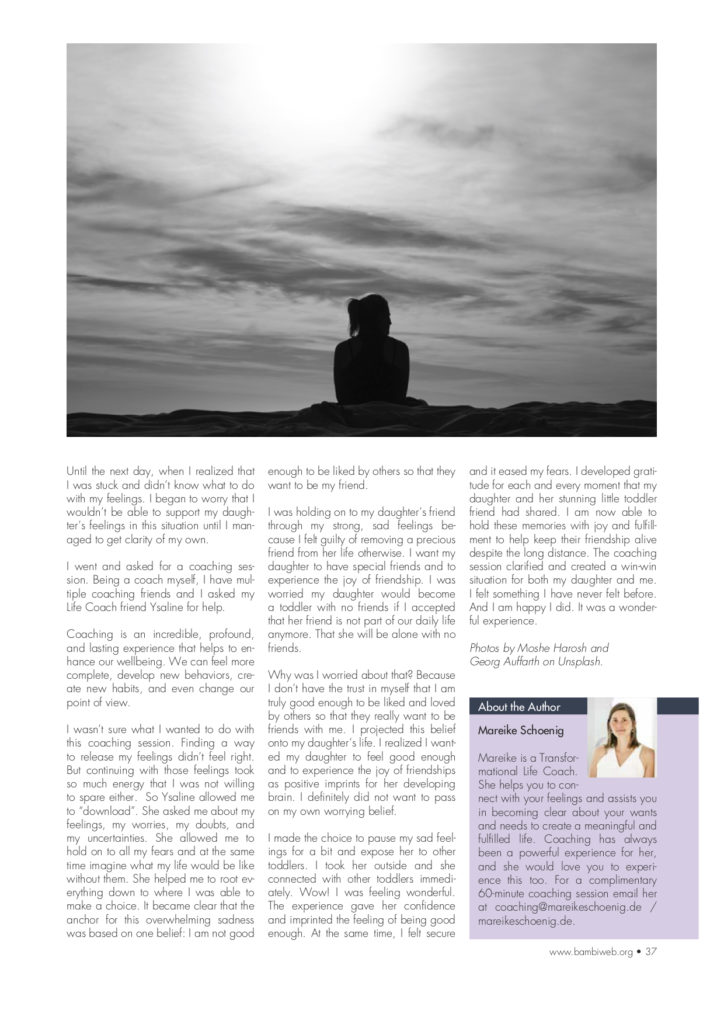 RE-ENERGIZING EVENING ROUTINE GUIDE
5 SIMPLE EVENING HABITS
TO RECOVER QUICKLY
FROM A ROUGH DAY AT WORK
It might sound tempting to put some deep-fried food in the microwave, open a beer and watch a couple of episode of the newest Netflix series to rewind after a long day, but these action won't actually help recharge your empty batteries.
An re-energizing evening routine is essential to make it through exhausting and busy work weeks with enough energy to truly enjoy your free time after work.
DOWNLOAD IT FOR 0
€

!